Emmanuel Owusu Addai is the co-founder of Farmerline the Apps4Africa 2011 West Africa 3rd Place Winners. Farmerline was selected as one of two former A4A winners who would present at the first ever DEMO Africa. Here, Emmanuel tells his story and offers advice to those wishing to win funding in the 2012 Competition!
---
by Emmanuel Addai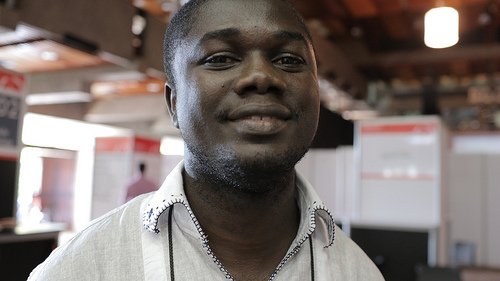 DEMO Africa was a whole week of learning and experiencing what it takes to sell your business ideas to the world. Being part of the first ever DEMO on the African continent has strengthened me and our app, Farmerline, as well as wiped out all manner of perception and doubts about what the young African entrepreneurs are capable of. There they were - young men and women from across the African continent with great vision, ideas and creativity - seeking mentorship and investments for their start-ups.
Before the start of DEMO Africa, I had the rare privilege of attending the [email protected] Summit held at the Intercontinental Hotel in Nairobi on the ticket of Apps4Africa. It was a day of pure learning. Meeting all the people who matter in the ICT space, discussing about how to push the frontiers of Innovation and Technology using the 4C's [Capacity, Connectivity, Creativity, Capital], and telling sponsors and participants about Farmerline as well as receiving responses from them, was an experience of a lifetime. They all believe in one thing - Provide the 4C's to the African youth, and you will be amazed at the innovations they will come up with. It was gratifying to be in the company of all the giants behind this idea [Microsoft, Nokia, infoDev, USAID, DEMO, Appfrica, VC4A, State Department of USA, etc].
More than 40 great presentations were made from 25-26 October, and 5 businesses were crowned as DEMO Africa Lions. My advice is simple - Guys, get your start-up ideas ready. You may be lucky to be a part of Demo Africa 2013! I can't wait.
A Few Lessons I Learned
First, being a winner of a credible and prestigious competition such as Apps4Africa comes with it a certain amount of responsibility. It is not just about the winning, its about how you will seize the opportunity of all the hype to make it big. Farmerline has got all the opportunity to ride on the wings of the Apps4Africa award to succeed. The credibility that our business has had with this and many other awards is tremendous, and we are poised to convert these successes into a real problem solving machine.
Second, sometimes you need to improvise to save the situation. I accepted to be part of DEMO Africa not knowing how huge the expectation was. Though I was not happy with my presentation, I have come to an important realisation that sometimes I need to respond to situations as it demands. I failed to demo our unfinished application during my presentation only to realise moments after the presentation that people who followed up to see how our application works just loved that 'unfinished' app. In hindsight, I should have been bold enough to show it on stage.
Third, never think you are the only repository of good ideas. Others out there have other, sometimes better ideas. Go out there, listen to them, and polish the little you have.
Finally, learn how to break the ice whenever you get on stage to speak, it really helps to diffuse tension. And I will refer to (former Apps4Africa winner) Eric Mutta's Mini-Shop presentation - people loved to listen to him more and more because they thought they were listening to a story. Congrats to Eric!
My Advice to the Apps4Africa 2012 Applicants:
We (Alloysius Attah and I) entered the Apps4Africa challenge not even believing our own story. After our idea (Farmerline) came third in the West and Central Africa category, we had to put pen to paper, mind to action, and dreams to reality. Everywhere we go, people want to listen to us just because we are winners in a continental competition. Apps4Africa is serious business. Make the best out of this competition, and you will never regret trying.
I'd like to take this opportunity to thank Appfrica, the organization that facilitates the Apps4Africa competition, for sponsoring Farmerline and Mini Shop to attend the DEMO Africa event, and for believing in me even when I was unsure of presenting.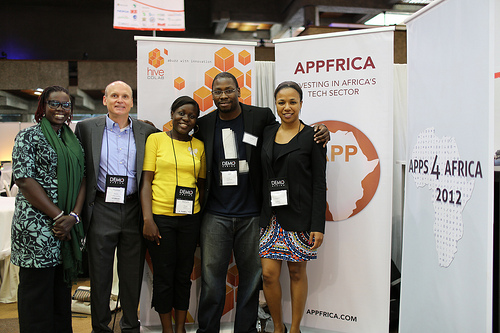 If I would forget everything that happened in Nairobi, it would never be the inspiring smiles of the Appfrica team (Jon Gosier, Bahiyah Robinson, Marieme Jamme, Thomas Genton, and Babara Birungi) as well as the unending appetite to want to listen to Eric Mutta (Mini Shop) more and more. Thank you all!