Category:
Business Challenge
Nicholas Haralambous was the CEO and co-founder of Motribe before the company was successfully acquired by Africa's largest social network, Mxit in August, 2012. In 2009 he featured on GQ's list of Top 30 Men in Media and was also a finalist in the Men's Health Best Men Awards in 2010. Prior to its sale, Motribe, was named by Forbes magazine as one of the Top 20 Startups in Africa in 2012. In this essay Nicholas offers advice for African entrepreneurs looking to find funding.
---
by Nic Haralambous
Finding funding is never easy, don't let anyone tell you differently. You don't simply trip and fall into a pile of cash. This is especially true in the emerging markets at present.
Many investors are risk-averse (they don't want to invest in unproven businesses) and those who are local and not averse to risk don't have enough money too truly back a long-term startup play. This is the first paradox in the tech-investment space in Africa right now.
There are many investment firms making a move in the right direction in Africa but they are still few and far between.
There are the varying types of investment you can go after; Private equity, angel investment, seed funding, accelerators and Venture Capital. You could also look to family funding as an answer - getting your family to back you in small increments.
I have previously raised fairly substantial seed funding from 4Di Capital in South Africa for my company, Motribe and I lived to tell my story.
In 2011 I was certain that the solution to everything was more funding. I also believed that the money needed to come from abroad.
Here are some problems I ran into:
Move to the US/EU
Many investors were interested in giving me money but wanted me to move the Motribe Headquarters to New York. This was a bad idea but the money was good. We decided against it.
The lesson: The investor needs to be the right fit for you and your business. Not all money is good money or the right money, don't settle.
Not Enough Revenue
This problem generally comes into play with a fairly young startup in a very dynamic space. It's often tough to raise funding without revenue in the emerging markets.
The lesson: Make money. You don't have to make profit, just prove that your business can make money and scale the making of money.
The Wrong Kind of Revenue
Be sure that you have chosen the right revenue model for your product or company. Revenue anywhere is often the advice given but often leads to troubles down the line. Be vicious with your goals and ensure that you go after scalable revenue.
The lesson: Be patient and don't be greedy. Sometimes turning down revenue is better than getting the wrong revenue.
General Misunderstanding of African Markets
Traveling abroad and pitching to Venture Capital abroad taught me some interesting lessons. One of the main observations I made is that interest in Africa is peaking but knowledge of the market is not. Investors are often loathe to get on a plane and come into deepest darkest Africa and find out for themselves what is happening.
The lesson: You know your market, stick to what you know and don't let anyone tell you otherwise.
The first ever DEMO Africa was held this week in Nairobi and was a big success. Here's a summary of things that occurred, this is a cross-post from blog.appfrica.com.
---
On October 24th, 2012 Hillary Clinton announced the 3rd Apps4Africa competition at DEMO Africa in Nairobi, Kenya. Her pre-recorded video address to the audience was one of the many highlights of the DEMO Africa which brought investors and 40 of Africa's finest startups together for rapid-fire 6-minute pitch sessions.
The announcement also marks a big change in the Apps4Africa model. This year the competition is targeting startups and businesses through competitive funding, offering a non-diluting path to venture capital, mentorship and other forms of support. Our goal is to catalyze the growth of Africa's early-stage startups to address the issue of youth unemployment across the continent. Africa needs to create at least 120 million jobs by 2012 to maintain it's current trends of a growing middle class. Those jobs are not going to come from government mandates or multi-national corporations, they are going to come from successful startups and entrepreneurs. With Apps4Africa 2012, Appfrica and our partners at the State Department, [email protected], and the World Bank are demonstrating our commitment to addressing this problem now and in the future!
We're greatly appreciative for the remarks of Mrs. Hillary Clinton and the continued support of our friends at the State Department!
---
At DEMO young companies are offered 6 minutes to demonstrate their app's utility, their business model and their case for investment. It's very fast-paced and exciting for the entrepreneurs.
Keeping with that theme, we've selected 6 photos that capture the experience of the conference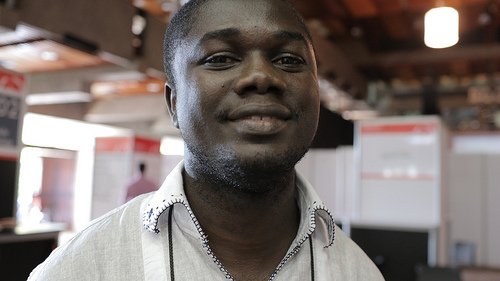 Emmanuel Addai (Co-Founder, Farmerline) was one of two entrepreneurs representing the Apps4Africa 2011 Winners at DEMO Africa 2012. Farmerline came in third in the 2011 Climate Challenge.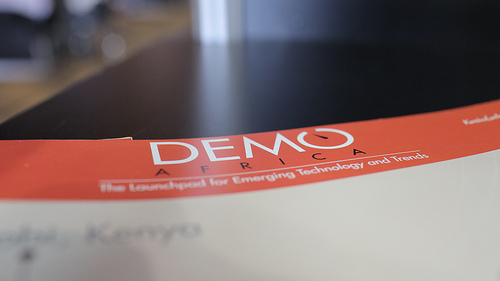 DEMO Africa 2012, the Launchpad for Emerging Technology and Trends
One shot at 6 minutes in front of investors, journalists, and other technologists. Would you be ready?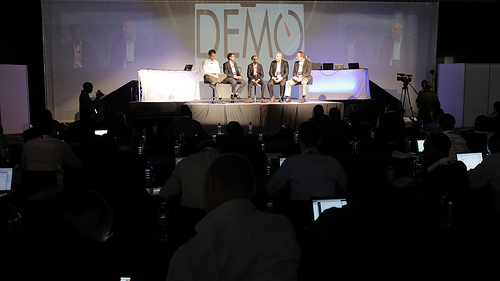 Intermixed with the pitches were panels and real-time feedback 'sage' sessions from seasoned entrepreneurs and investors. Some ideas passed their test, others were shot down right away for not being investable.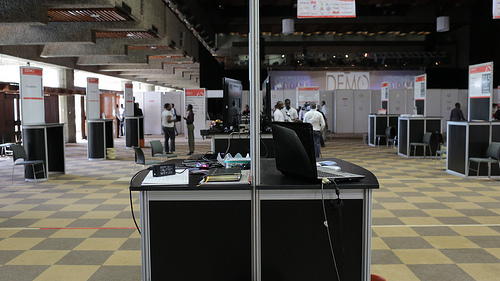 During the pitch sessions, the exhibition hall at DEMO Africa 2012 was relatively empty, but after, this was where deals were made and startups got their second or third chance to pitch investors one on one.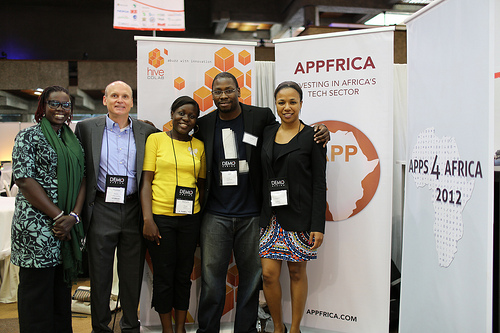 Our team was all over the place at DEMO! From left to right, Marieme Jamme of SpotOne Global and Africa Gathering, Thomas Genton of the U.S. Department of State, Barbara Birungi of HiveCoLab, Jon Gosier and Bahiyah Yasmeen Robinson of Appfrica.