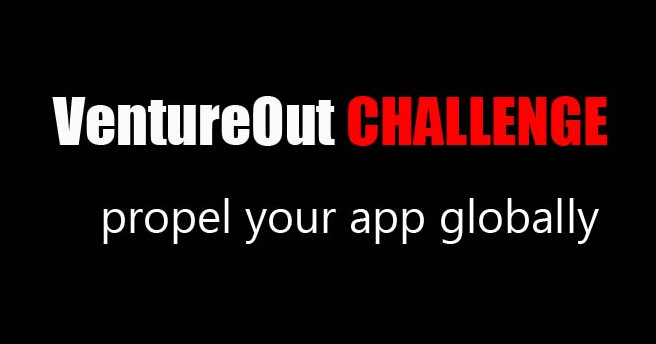 Thirteen international startups have been selected by the VentureOut Challenge, an initiative of infoDev and CRDF Global, to compete before a live audience and a panel of mobile experts in Chisinau, Moldova on November 1, 2013. The winners included Apps4Africa 2012 Challenge winner ProWork.
Top mobile app entrepreneurs from 33 countries competed in the VentureOut Challenge. The goal: Internationalization of their mobile applications — entering new countries, continents, or going global with their amazing apps. Stakes are high: $10,000 seed funding; Mentorship with international and regional mobile experts; Dragon's Den exposition in Chisinau, Moldova; and TechCrunch Disrupt Europe Scholarship to Berlin.
The VentureOut initiative was launched to help mobile app entrepreneurs to expand internationally. The finalists include ventures from Africa, the Caribbean, and Europe and Central Asia and represent mobile applications ranging from mobile health focusing on patient-centric health applications to location-based services and different sorts of entertainment including music, gaming and television.
The 2013 VentureOut Mobile App Competition Finalists
GoMetro is a transit app for emerging markets that combines trains, buses, rapid transit and taxis into one app using multiple data sources. Alicia Ernstzen, South Africa, gometroapp.com
Grikly is a business networking application that allows users to share contact details easily. Dwayne Samuels Jamaica, grik.ly
Idram Mobile Wallet empowers users to make payments and transfer money using only their phone. Narek Vardanyan, Armenia, mobile.idram.am
M.A.D.E. is a disaster and emergency focused native mobile app providing users with information about what to do before, during, and after natural disasters and national emergencies faced by the Caribbean. Ade Inniss-King, Trinidad & Tobago
Manifesto instantly records video or audio with one tap and shares it seamlessly. Dorian Postevca, Moldova, seemanifesto.com
Marodi.tv is a replay TV platform for mobile and web playing TV programs from channels in Senegal and Cameroon. Jimmy KUMAKO, Senegal, marodi.tv
Nearest Locator helps you easily find the nearest ATMs, banks, eateries, hospitals, pharmacies and more. Ayoola ajebeku, Nigeria, getnearest.com
Prowork empowers businesses by bringing project management and collaboration together on one platform. Francis Onwumere, Nigeria, prowork.me
SweetSOA offers web services to businesses. Jerome Campbell, Jamaica, sweetandsoa.com
Teddy the Guardian is a teddy that uses state-of-the-art medical sensors to capture, report on and share a child's vital signs like heart rate, body temperature and oxygen saturation. Ana Burica, Croatia, teddytheguardian.com
Tuning Fork is karaoke with real-time pitch verification. Dilara Rustam-Zadeh, Azerbaijan, tuningfork.az
Waabeh is Africa's audio market place helping with discovery and distribution of audio content from the continent. King'ori Maina, Kenya, waabeh.com
X-Rift is a location-based augmented reality game for mobile devices. Daniel Tonkopiy, Ukraine, x-rift.com
All finalists will receive ongoing mentoring from exceptional entrepreneurs and investors from around the globe who have experience building companies and taking them global.
Beyond mentoring the finalists, infoDev and CRDF Global will offer resources for any growing mobile startup to learn necessary skills, make connections, and find inspiration to go global. The conference in Moldova will also include hands-on training sessions to help entrepreneurs identify and develop their customer base and learn other critical aspects of business modeling.
About infoDev
infoDev is a global partnership program within The World Bank Group. Its Mobile Innovation Program supports growth-oriented mobile app businesses by enabling entrepreneurship, building mobile innovation communities, and researching the app economy of emerging and frontier markets. www.infodev.org
About CRDF Global
Founded in 1995, CRDF Global is an independent nonprofit organization that promotes international scientific and technical collaboration through grants, technical resources, training and services. www.crdfglobal.org
Congrats to Apps4Africa 2011 Challenge winner Farmerline and the other teams from Kenya and Senegal who have been named winners in InfoDev's mAgri Challenge. Winners will receive a spot at InfoDev's Mobile Startup Camp as well as other resources aimed at helping them grow their businesses.
The four winners, along with fourteen of the best startups from infoDev's business incubator network, will be invited to November's Mobile Startup Camp. The Camp is designed to accelerate the growth of early-stage entrepreneurs. A five-day program of lectures and hands on workshops will provide participants with an opportunity to refine their product strategies, business models and marketing pitches, sharpen their negotiating skills and network with investors and peers.

It will also include a Demo Day – a pitching competition before a panel of industry experts and angel investors.

"We were looking for prototype-stage startups in a niche market, and were surprised to receive so many applications of high quality," says Maja Andjelkovic, Mobile Innovation Specialist at infoDev. "These entrepreneurs are showing not only the potential impact mobile agri applications can have in Africa and around the world, but also the considerable talent behind innovation driven startups on the continent."

Members of the jury representing leading private sector players in the mobile industry were also impressed by the entries.

Ernest Akinola, West Africa Government Relations for Blackberry said "The winners demonstrated robust and well thought through concepts, but many more entries showed niche applications for specific needs within the agri sector. I wish the best of luck to all of the founders who entered."

Echoing Akinola's remarks, Arjun Thomas, Global Product Manager for Nokia Life said, "The competition unearthed very interesting applications. As these startups grow, adapting the business case to ensure steady and versatile revenue generation streams will be critical to their success."

We would like to congratulate all of the applicants, including the four winners and six runners-up below.
mAgri Challenge 2013 Winners
Farmerline, Ghana: uses voice and SMS to collect data, share new farming techniques, and better link smallholder farmers to other actors along the agricultural value chain. Its survey tool allows agricultural workers and NGOs to conduct immediate surveys with thousands of farmers at a fraction of the cost of traditional techniques.
Intellect Tech, Kenya: helps farmers and insurance firms track compensation claims in real-time. The platform improves transparency and facilitates faster processing of farmers' insurance claims.
mLouma, Senegal: connects farmers to food purchasers by displaying real-time market prices and localizations. The service will improve the efficiency of the agriculture supply chain, helping farmers to get a better price for their produce.
Price Calculate, Kenya: aids agricultural producers to calculate the competitive price at which they can offer their products. The app educates producers on the market structures between them and their final consumer (local or international), helping them make more informed price decisions.