Farmerline Announce Funding from IndigoTrust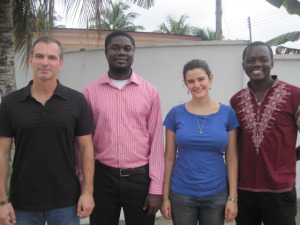 We're excited to learn that winners of last year's Apps4Africa competition, Farmerline, have announced support from IndigoTrust, one of our longtime partners. IndigoTrust has funded Apps4Africa winners in the past, including 2010 winners iCow and NotinMyCountry.
From IndigoTrust's website:
Farmerline provides access to agriculture information, communications expertise and advisory services for smallholder farmers and other agricultural stakeholders. Their goal is to empower smallholder farmers using information and communications technologies (ICT), by increasing their crop yields and opening up trade networks and opportunities.

Through their activities, Farmerline aim to grow smallholder farm management and production capacity, contribute to improving processes, encourage new skills acquisition, and build local and regional knowledge bases and relationships. Farmerline believe that providing best practice information and access to market are crucial to the success of building the capacities of farmers in Ghana and elsewhere. To test this, they will be deploying a six-month pilot programme aimed at reaching 500 fish farmers (or one twelfth of Ghana's fish farming population). Farmers will be provided with aquaculture best practice information, advice on record keeping, access to input suppliers and market access information in an attempt to bolster their productivity and incomes. The information will be made available via SMS and farmers will also be able to call a local call centre where operatives who speak Twi, Ga, Fanti, Nzema and Ewe will be on hand to offer advice and support. Farmerline will hold workshops with new users to guide them through the platform and agricultural outreach workers will also be trained in using the platform and demonstrating it to new farmers.
For more, read this recent essay by Farmerline's co-Founder Emmanuel Addai.